Key fintech thought leaders Brian Fox, Confirmation's founder; Kyle Gibbons, Confirmation's Managing Director of Europe; and Inflo CEO mark Edmondson recently gathered virtually to discuss whether technology that targets fraud is the future of audit.

Some key topics discussed included:
Audit firms changing their work pace and their challenges during Covid-19
Wirecard and Luckin Coffee – case studies of what went wrong in these high-profile frauds.
How data analytics and technology can alleviate fraud
What auditors need to know and how they can prepare for the unexpected
If you missed the live session you can catch the full video below.
Audit firms changing their work pace and their challenges during Covid-19
A 2020 Accounting Today survey found that over half of audit firms in the US have some or most staff working remotely. Auditing remotely is not a new concept; however, just as companies had to adjust to employees working fully remotely, auditors too needed to quickly adapt their audit procedures and communications to fulfill their obligations while working remotely. 
The survey also showed that while most firms were fairly equipped to continue to serve their clients remotely, they still had some challenges to overcome. Many audit firms were already exploring the possibilities of remote work, as many industries are, but the pandemic accelerated that digital service delivery.
Inflo and Confirmation have seen firms around the world adapt quickly to the changes Covid-19 has presented.
There are four common challenges they are hearing from firms.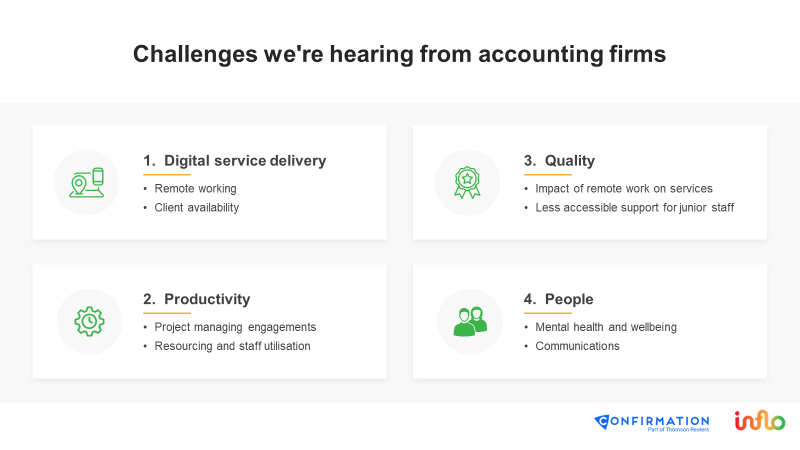 For some, the move to digital has been challenging while others have adapted, but the ability to scale and speed up their work has been difficult. Productivity and project management are very different when teams are not physically together. Audit processes have also adapted, as clients are working remotely and firms must ensure the quality of work is not impacted. There has also been an increased concern for the wellbeing of staff, as firms have been busier than ever guiding and supporting their clients through challenging times.

Why could the pandemic potentially increase the likeliness of fraud?
We have seen this story in several cycles, many emerging during a downturn. The large frauds have been going on for a number of years. When the economy is good, and cash is available – either through equity or debt financing – it's easier to continue to perpetrate financial fraud. When you have a downturn in the economy and those cash capabilities tighten up – that's when frauds begin to unravel – fraud relies on continued access to capital. 
 
When you have a tightening of the economy, frauds come to light due to reduced capital. This is why there will likely be an increase in fraud detection over the next 18 to24 months as the founder of Confirmation, Brian Fox, discussed in this CNN article.  
 
Mark and Brian spoke in detail about two particular frauds – Wirecard, a bank confirmation fraud, and Luckin Coffee, a fraud perpetrated through fictitious transactions. They also discussed how the frauds were perpetrated and what role technology plays in identifying fraud. 
What auditors need to know and how they can prepare for the unexpected

Auditors have a big part to play in fraud detection and firms need to get serious about their responsibility in finding fraud. This sentiment was reflected by our audience, with 62 percent of them agreeing that auditors should have a greater responsibility in detecting fraud.
Fraudsters are some of the earliest adopters of technology who try to stay one step ahead of authorities and auditors. That is why firms should be looking at their technology and tools that can be used to strengthen controls.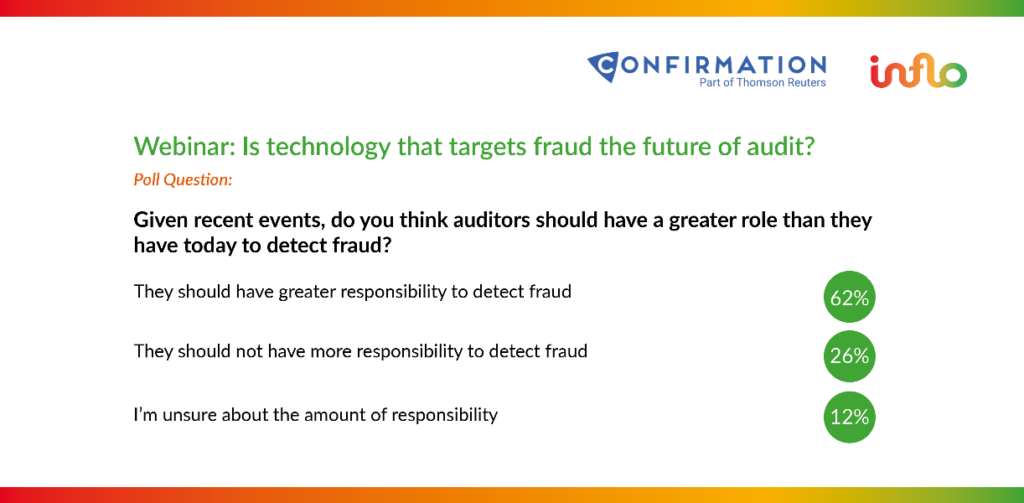 How important is the quality of data?

In the world of data analytics, the focus is on the reporting and the dashboards created from the data. To get to that point the data needs to be clean and accurate.

Traditional data collection methods with clients are susceptible to fraud. In Inflo, data can be extracted from an accounting system or a backup of the system. This allows for no room for tampering or alteration of data and no need to spend time checking for accuracy or completeness.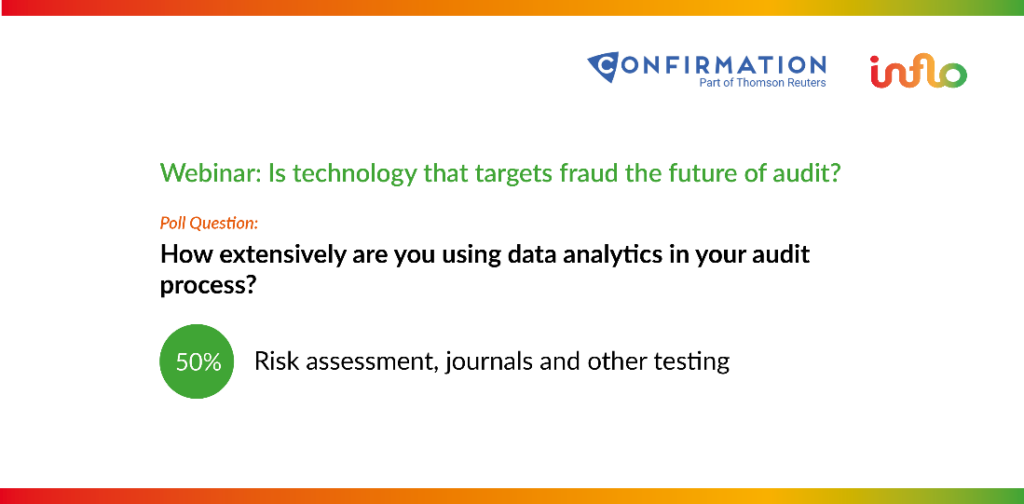 In a second poll, we asked the same audience: How extensively are you using data analytics in your audit? Over 50 percent stated it is being used on risk assessment journals and other testing. This is a positive trend, as 12 or 24 months ago that may have looked very different. This trend demonstrates that firms are adopting technologies.

Technology for all
Challenger firms that use technology are leveling out the playing field for more firms to compete with the Big 4. Both Inflo and Confirmation were created to bring technology to firms of all sizes.

Inflo is a cloud-based solution that provides financial data analytics and AI technology allowing auditors and accountants to deliver more valuable services to clients.
Confirmation, part of Thomson Reuters, is a secure, online platform that allows auditors to control the audit confirmation process from start to finish. It allows banks to respond quickly and accurately to those audit requests.